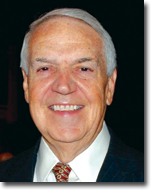 Bill Dalgetty, author Hope for the Workplace

Bill Dalgetty spent thirty-eight-years as a senior attorney and executive for Mobil Corporation. He is a past president and chairman of the board of Christians in Commerce International (www.christiansincommerce.org ). In his work with Christians in Commerce, he oversaw the publication of the monthly newsletter, The Challenge Newsletter, writing more than 100 articles on the subject of Christ in the workplace. He has also given numerous talks and conducted retreats and seminars on this topic.
Bill received a Juris Doctor from the University of Missouri at Kansas City and a Bachelor of Science in Industrial Administration from Iowa State University. He is married and has five children and twelve grandchildren. He resides in Vienna, Virginia, where he is a member of St. Mark Catholic Church and the People of Praise, an ecumenical covenant Christian community.
Contact Bill: This email address is being protected from spambots. You need JavaScript enabled to view it.">This email address is being protected from spambots. You need JavaScript enabled to view it.